The PDX Story
It was so unexpected. I already knew it was going to be a good day but never guessed how
good. Getting off the plane at PDX, I was excited to see my grandchildren in the distance,
jumping up and down waving their homemade signs welcoming me to Portland (Oregon). After
giving them massive hugs, I noticed with a smile that my daughter was wearing her Raising
Superheroes shirt. Alice-Kate then turned and introduced me to a woman she was chatting with
about my work in empowering parents and teachers.

Introducing: Donna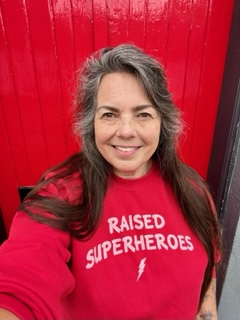 Donna smiled and told me how she had stopped my daughter to ask about the Raising
Superheroes slogan. The conversation quickly jumped to parenting, including the importance of
continuing to support adult children as they raise their own superheroes. She happened to be
waiting for her son to deplane and her pride while describing him lit up her beautiful face. As
we parted to go in different directions, she asked if I had thought of adding Raised Superheroes
to the line of merchandise.

Our chat was brief but It's one of those chance meetings that make you feel connected to the
universe. In under 3 minutes, Donna gave me some much needed energy. She not only inspired
me at the PDX airport but she followed up and within a week, Raised Superheroes was added.

"Keep supporting the Raising of Superheroes AND let us acknowledge the work we have done and continue to do."

– in an email from Donna
Well said, Donna!

Now more than ever, kids need to know that someone cares and they won't be judged as they
maneuver around all the challenges they face today, including being online. Kids can teach us
about technology but we're still in charge of the most significant lessons about friendship, trust,
loyalty, and kindness. Digital Age or not, they still need the skills that will help them feel
emotionally and physically safe whether they're online or at school. Grandparents play a special
role, including in issues such as cyberbullying and bullying prevention.

Since we can't control the behavior of others, what does prevention actually mean? The goal is
to create safe, supportive environments at school and home where bad behavior is not
tolerated and a child's sense of self is protected.

That unique love, interest and connection between a grandchild and a grandparent helps build that safety net. Feeling safe leads to trust which leads to resilience. Resilient kids succeed.
Gratitude for Donna and all of the superheroes reading this…
Thank you from the bottom of my grateful heart, Donna, for supporting me long after that
chance meeting. And thank you to everyone out there helping each other on this unpredictable
parenting/grandparenting road. (If you want to acknowledge one of those special people in
your life, click here.)

Raising Superheroes is not for the faint-hearted. Any self-respecting superhero will agree.
More on this: The Cool Grandpa podcast