Guided navigation through the world our children live in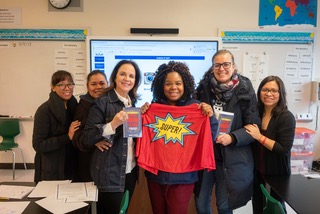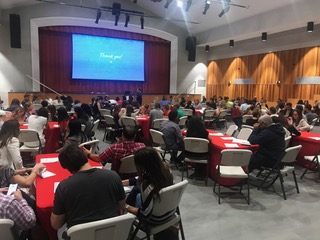 Teach your entire organization about bullying prevention
A kinder world is within reach but our kids need well informed, caring adults to help them navigate every aspect of this brave new world. Much has changed since our own childhoods. Let us help guide you and your parent/teacher organizations through it. The goal? Less fear. More knowledge. More joy.
We offer practical tips on how to help children navigate friendships, how to protect themselves from the impact of peer mistreatment, and how to be a leader in school and online no matter what their strengths are.
Hundreds of parents + teachers have participated
From public to private schools, from pre-schools to high schools, from living rooms to military bases, Susan Raisch has spoken to — and learned from — hundreds of parents and teachers across the U.S., including Puerto Rico. They all have one thing in common: a desire to nurture kind and confident kids.
Everyone's worlds changed with the pandemic in 2020. In-person speaking engagements were put on hold (along with everything else!). Although many things were canceled, unfortunately bullying and cyberbullying were not. It's time to start up the conversation again.

Protect your Child's Confidence
What is the new neighborhood?
What is bullying/cyberbullying?
Bridging School, Home and the Digital World: Tips on communicating effectively
Trusted Adult Practical Tips
Helping children navigate the entire neighborhood (offline and online)
How to be the trusted adult every child deserves
Nurturing children with confidence in our expanding digital world
Build skills to help our children become their best selves offline or online
Create a foundation for lifelong leadership skills. Leadership is the anti-bully.
What is self-care?
How self care impacts our roles as parents and educators
Everyday tips: You've been knocking it out of the park, parents and teachers, and deserve a gold medal (thank you, Covid-19!). Wish you could get that medal but please accept a few golden tips on mental, emotional and physical health.
A typical presentation looks like...

ANSWERING YOUR QUESTIONS/INITIAL CONSULTATION
Book a free 30 minute conversation. We'll talk about your organization and what you need. Feel free to book a presentation on the spot and we'll get the (tangled) ball rolling. You'll get an email outlining all the details. (We keep it simple! Parents and teachers are busy!)
Susan Raisch, author and founder of
Tangled Ball
®, will spend 50 minutes taking you through an interactive presentation on navigating the New Neighborhood, including basics about bullying, cyberbullying, online safety, and how we effectively raise kind and confident kids in our expanding digital world. We will stay online for an additional 30 minutes to answer questions or continue the conversation, if desired.
No need to take notes. Sit back and relax. Post-event the links to the resources and tips will be provided to you and your organization. You will also be given our contact information in case a question comes up after we meet. If you want a follow-up presentation, there's a discount for that!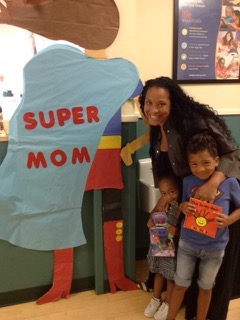 Walk away with a

deeper understanding


of anti-bullying tactics
The Goal: Less worry about the unknown. More knowledge on what really helps the kids in our care. More joy as we learn the power of connection, trust and building resilience.
Research is clear.
Parents, teachers and other trusted adults can play a key role in bullying and cyberbullying prevention.
"I walked away thinking how we raise our kids can change the world... and the best part is we don't have to be perfect to do that."
"I found Susan's approach to be so refreshing. She doesn't scare parents. She empowers them."
"If our kids are to succeed in school and life, we need these skills. This presentation was jam packed with really useful information."
After I heard you articulate the parallels between leadership and interrupting meanness, it made perfect sense and being more aware helps me better model it and share with my kids!"
"As a father, this workshop helped me make more meaningful parenting decisions."
"I couldn't put the book down and the workshop was so helpful."
"This is one of the best presentations I've ever seen. It makes me feel more confident."
Frequently Asked Questions

Parents, teachers, administrators, PTO or PTA, counselors, coaches, mentors, workplace parenting groups, non-profits. In a nutshell, anyone or any group who cares for kids.
CAN THIS PRESENTATION BE CUSTOMIZED TO THE NEEDS OF MY GROUP?
Yes. You are encouraged to book some free time for a consultation.
Yes. There is a military discount. The fee for military groups is $350.
Other discount needs can be discussed during the half hour consultation. In addition, we can offer tips on how to acquire sponsorship.
CAN WE BOOK 2 PRESENTATIONS: ONE FOR PARENTS AND ONE FOR TEACHERS?
Yes. If your school would like 2 separate presentations: one for a parent group and one for administrators/teachers, there is a bundle price of $650 per school.
CAN THE PRESENTATION BE DELIVERED IN PERSON?
We're all in flux, right? We have high hopes for more normalcy when the 2022-2023 school year begins. Safe and in-person presentations are part of the plan! The fee will be adjusted to reflect any travel costs when we can move around with more confidence. In the meantime, see you on Zoom!
Download More Information!
Join our Free Newsletter!
Stay in the know with all things Anti-Bullying and Tangled Ball®.