][I wrote you a book…
Superheroes Wear Mom Jeans: The Tangled Ball® Guide to Anti-Bullying for Parents of Young Children
Why?
Parents of young children hold so much positive power.
Coincidentally, talk show host Trevor Noah was promoting his own book on The View this week and said, "Moms are just like ― I don't even know how they do it. They're just like superheroes without the capes."
True, Trevor. True. They wear Mom Jeans.
Bullying starts young and there's "no one size fits all" solution but there are strings in the messy complicated tangled ball of bullying that we can untangle to ensure that our kids get what they deserve – a lighthearted childhood.
We're the experts when it comes to knowing our own children but even experts need the help of others. Superheroes Wear Mom Jeans© shares information and advice from a wide variety of psychologists, child development experts, educators, bullying prevention and online safety experts and other Superheroes (parents!).
Bullying is difficult but the real enemy is the self-doubt and aloneness they can experience as a result. Children should not feel alone…and as the Go-To Adults in their lives, we have the ability to help them feel safe and confident.
Whether its read together as a group or individually, my hope is that it sparks discussion and action…and hopefully, even a laugh or two.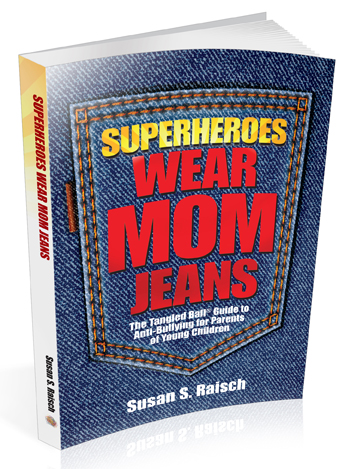 Superheroes Unite. We're in this together.