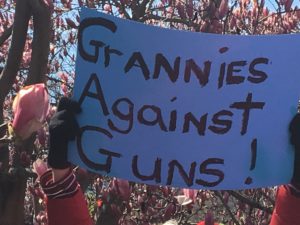 It made my heart full to see all generations coming together for March For Our Lives on Saturday, March 24th in D.C.
There was no generation gap as young parents carried babies, teachers carried signs and grandparents carried memories of standing up and speaking out about past critical and moral issues. But we were all following those that carried the biggest burden and had the loudest voice: teens.
Favorite moments of the day, of course, include taking the train with wonderful people who quickly went from strangers to feeling like friends, hearing the powerful speakers who were as young as 11, taking in all the creative messages and signs and being in awe of the sheer numbers of people from all walks of life lending their voices for common sense gun control.
As reflected on the rally on the metro after the crowds began to disperse, I watched as a teen and an elderly woman — who appeared not to know each other — struck up a deep conversation in the crowded train. What impressed me the most is the true interest they had in what each other was saying. They listened intently as the other one spoke. It was a beautiful example of the overall feeling of the day.
There was true respect for one another on that powerful but also sad day. As empowering as it was, I was deeply aware that those dynamic teens were going home to face the long road ahead of sadness and grief and emotional struggle.
It's time that we, as Go-To Adults,  take the lead again. It's our obligation to keep our children safe.